Today is Day 8 in Europe … and it has been an AWESOME trip!!!
If my calculations are correct, I've hiked 45.54 miles with 18,767 feet of vertical over 18 hours 28 minutes.  Hopefully my calves and quads are beginning to show it even a fraction as much as they feel it.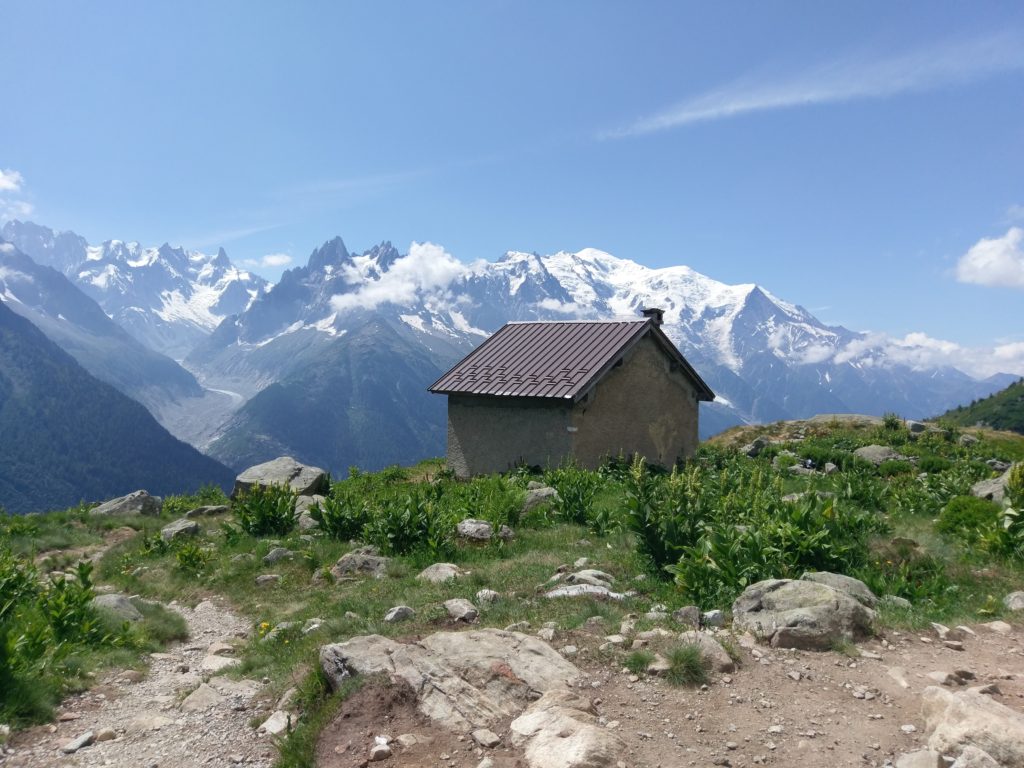 Two favorite hikes so far.  The first is the hike up to Lac Blanc.  It is about 4500 feet of vertical in a 9.83 mile round trip – counting a few wrong turns.  So awesome I've done it twice… mostly to see how much I could beat my first time by, which I would have done had I been paying better attention the first time and didn't get lost so much.  So maybe I'll try it again tomorrow morning…

And maybe I'll come across another ibex.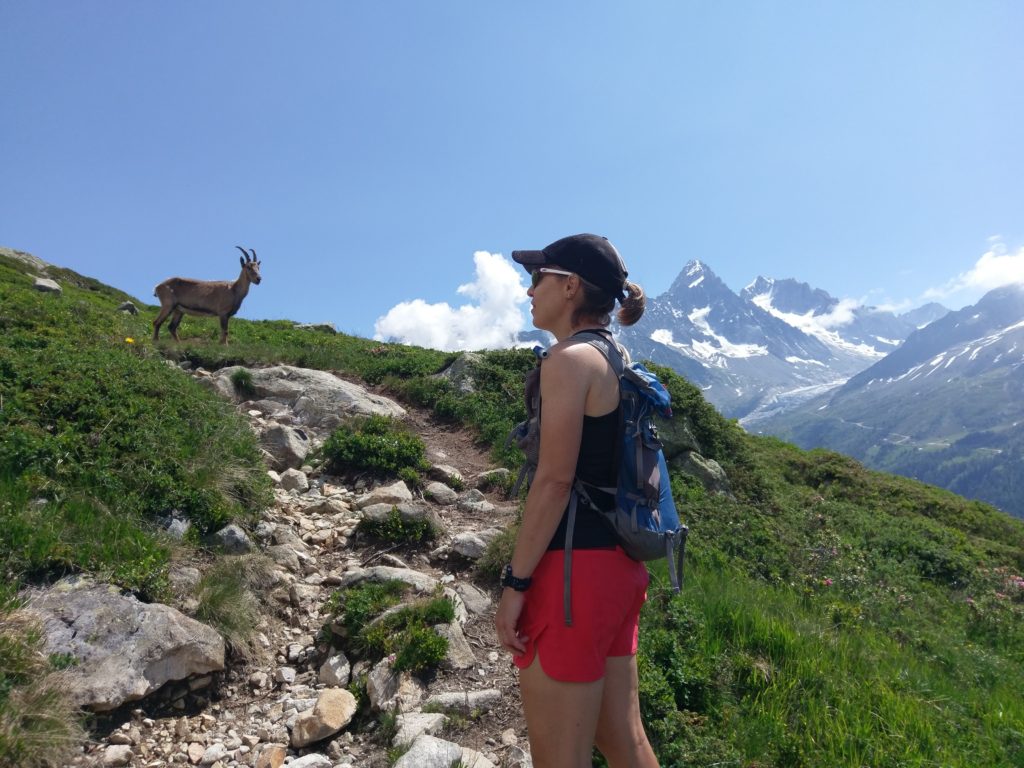 But I doubt I will ever be up there again with the alpenhorn player – which made the setting even more spectacular.
The second favorite was up to Rifugio Bertone and then up the ridge toward Col Sapin in Italy.  I followed the crowd and went quite a ways toward Rifugio Bonatti, but there wasn't anything extraordinary about the trail and hiking with hordes isn't my thing – so I turned around after a couple hours and headed back to Bertone, where I then took the road less traveled.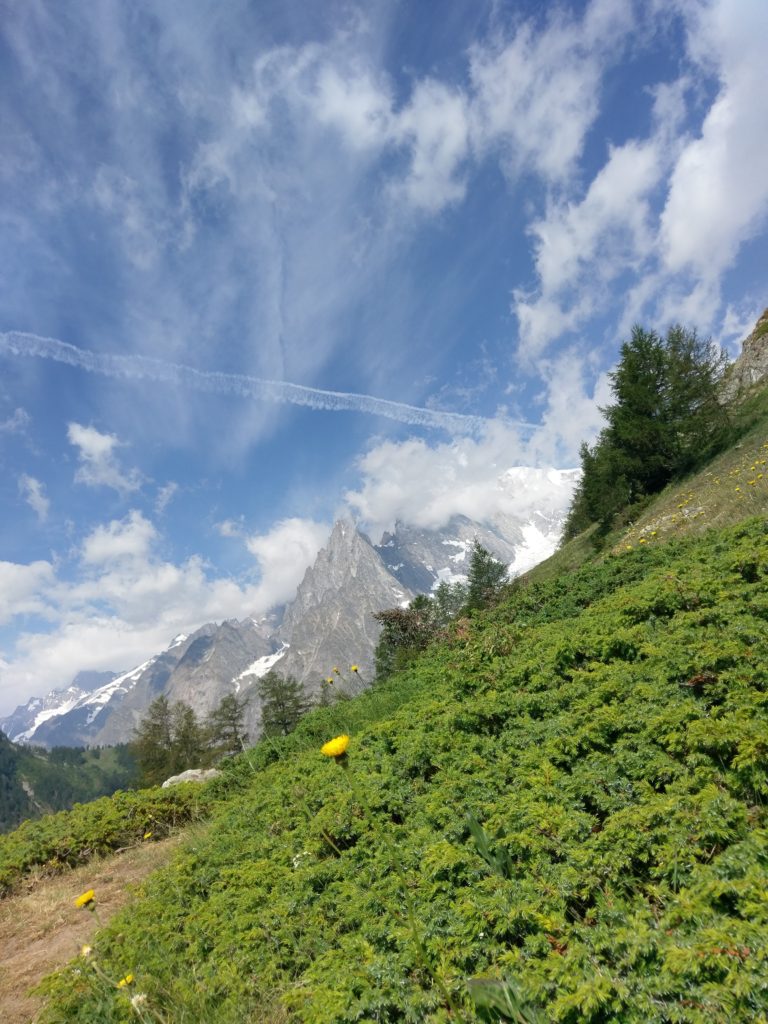 And it was obviously less traveled for a reason – I figure it was about 800 feet of vertical in about 1/4 mile.  Which by my calculation puts it at about a 60% grade, which seems about right.  I'm going with it anyway…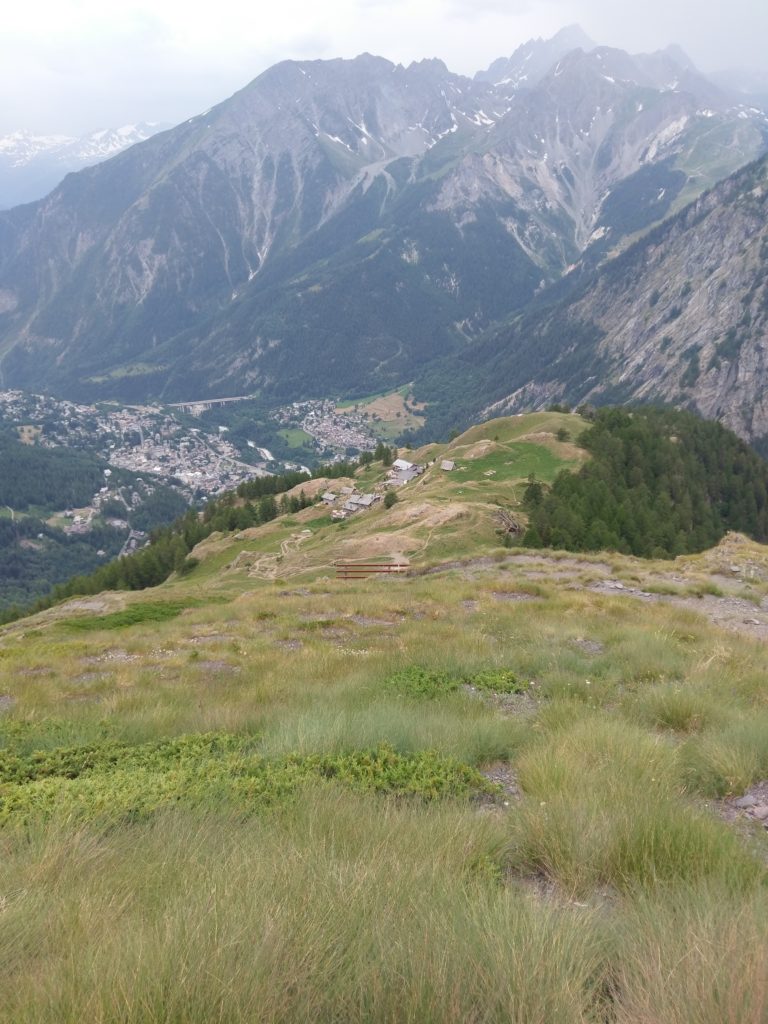 I climbed a ways along the ridge, and then sat down to my PB&J and Lindt pamplemousse rose chocolate bar for lunch … completely and entirely alone, which really is my heaven.
And on Saturday night after my 16 mile hike, Mom and I crewed for Em and Chris for their INSANE 105km Gran Trail Courmayeur.  Em came in a seriously impressive 4th among the women in a grueling race that only about half the people who started were able to finish.  Chris ran a race that he was thrilled with until his calf screamed that it was done, so he checked out at km 75 so that he can enjoy the rest of his summer here.
Emily was notably less chipper at the 75km checkpoint – but she looked great and was focused, since we reported that she was seriously competitive among the women – and really even, the men for that matter.  So, she strapped on her headlamp and headed out into the rain for a night of running on some of the trails I did earlier in the day.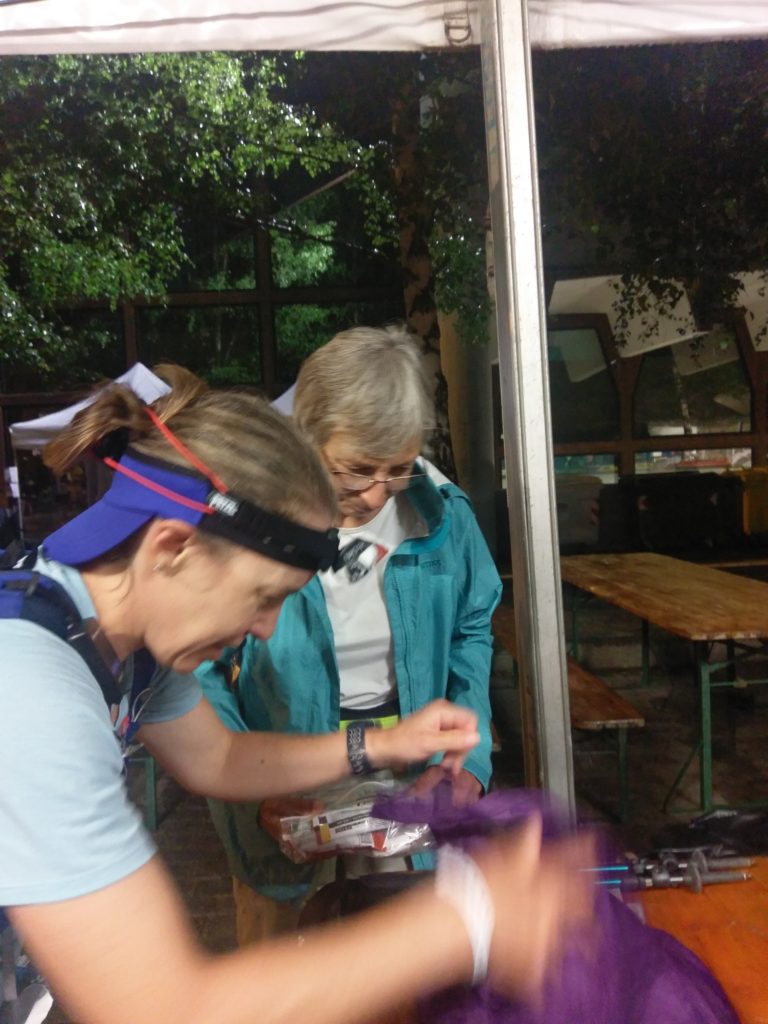 I set alarms for 3AM and 4AM to check the race website to find out how Em was doing.  At 4AM, she had just checked into the 95 km checkpoint, so I woke Mom and Chris up and we headed over to the finish line.  We greeted Emily at 5:25 AM when she finished – 22 hours, 25 minutes and 1 second after she started.  It was emotional to watch Chris be her strength when she had no more.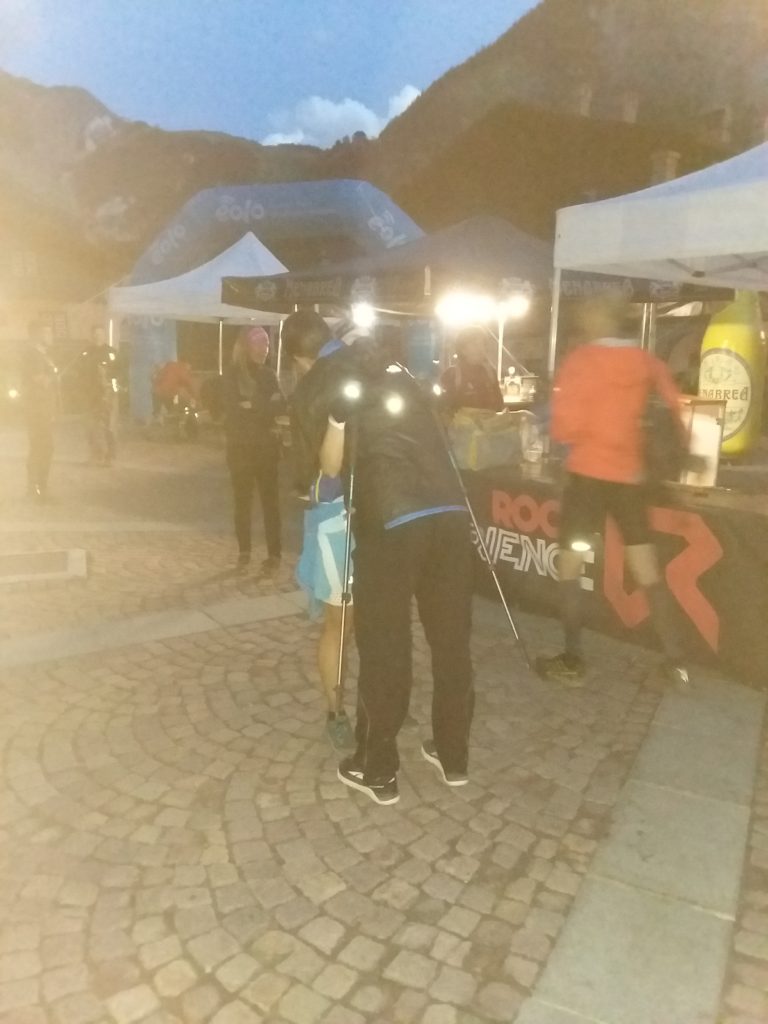 I think I heard her say she's never going to run again… ever.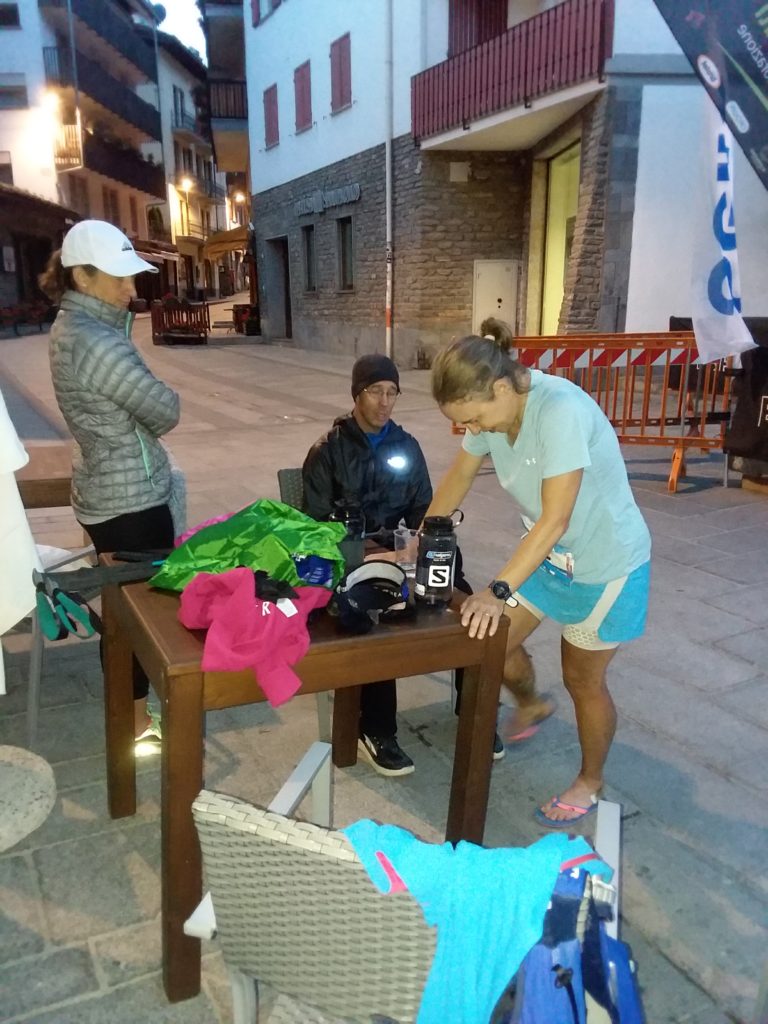 We walked back to our tiny Italian apartment (whose unfortunate feng shui I could actually feel) as the sun rose near Mont Blanc.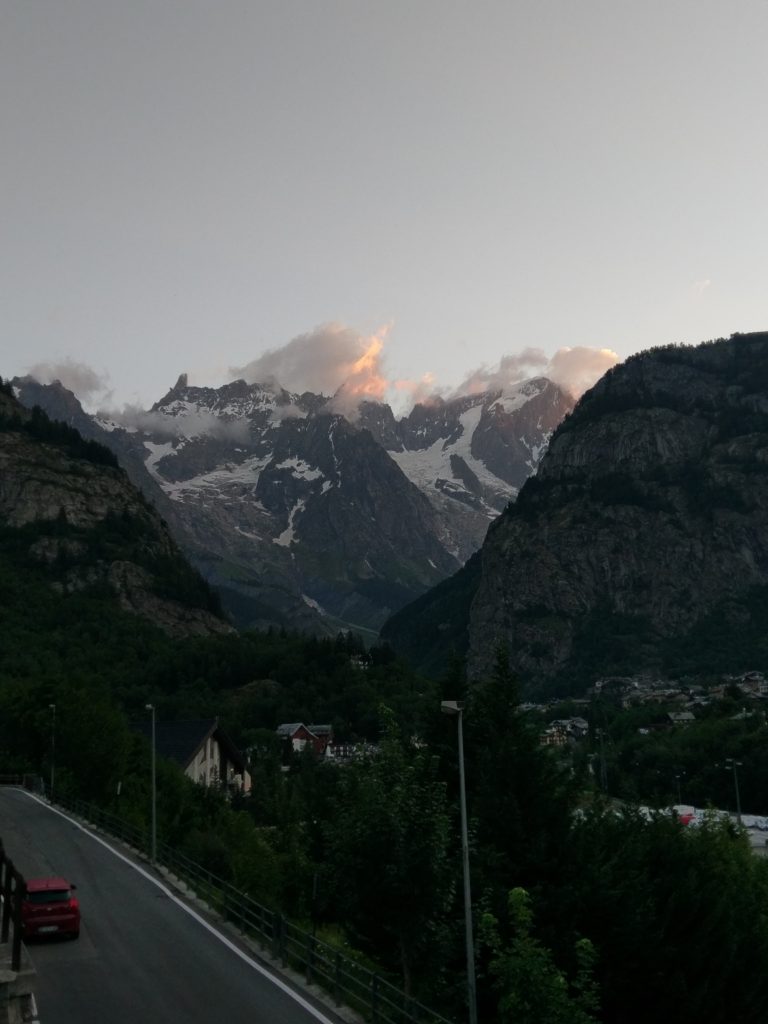 We all got a little rest, and then around 10AM when I announced that I could get us a reservation at the awesome (and gluten free) Pizzeria Des Moulins for dinner, we quickly packed up and abandoned Italy to head back to Chamonix.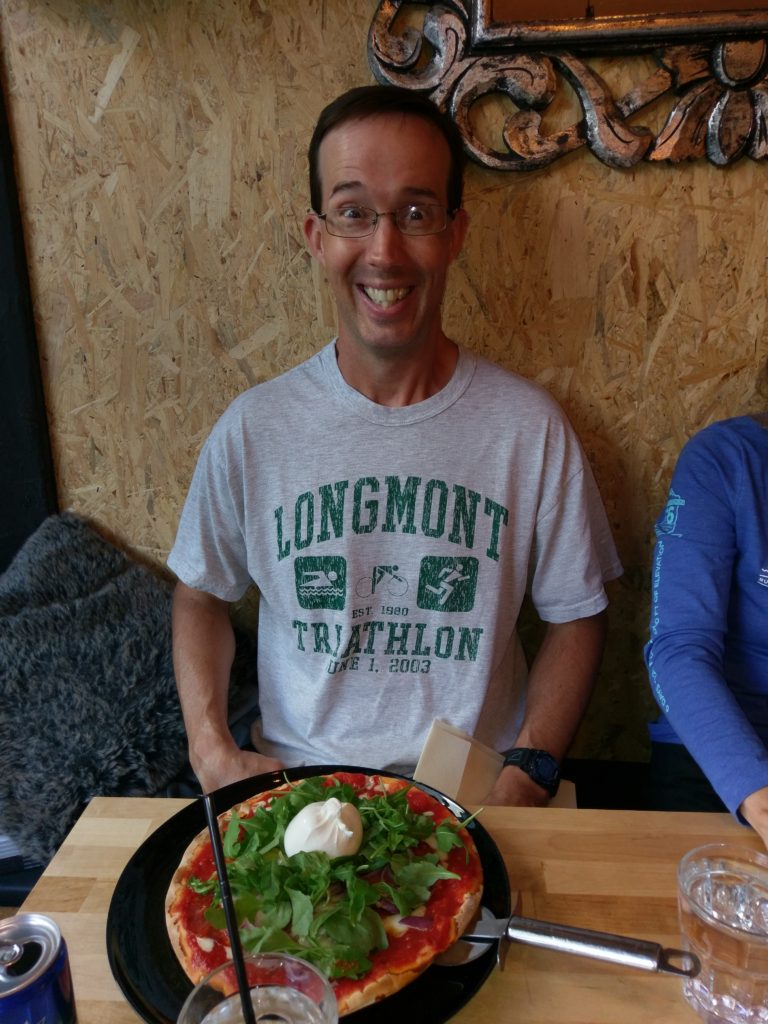 But only after a shouting little Italian man helped us get out of the alley and into the even narrower little street.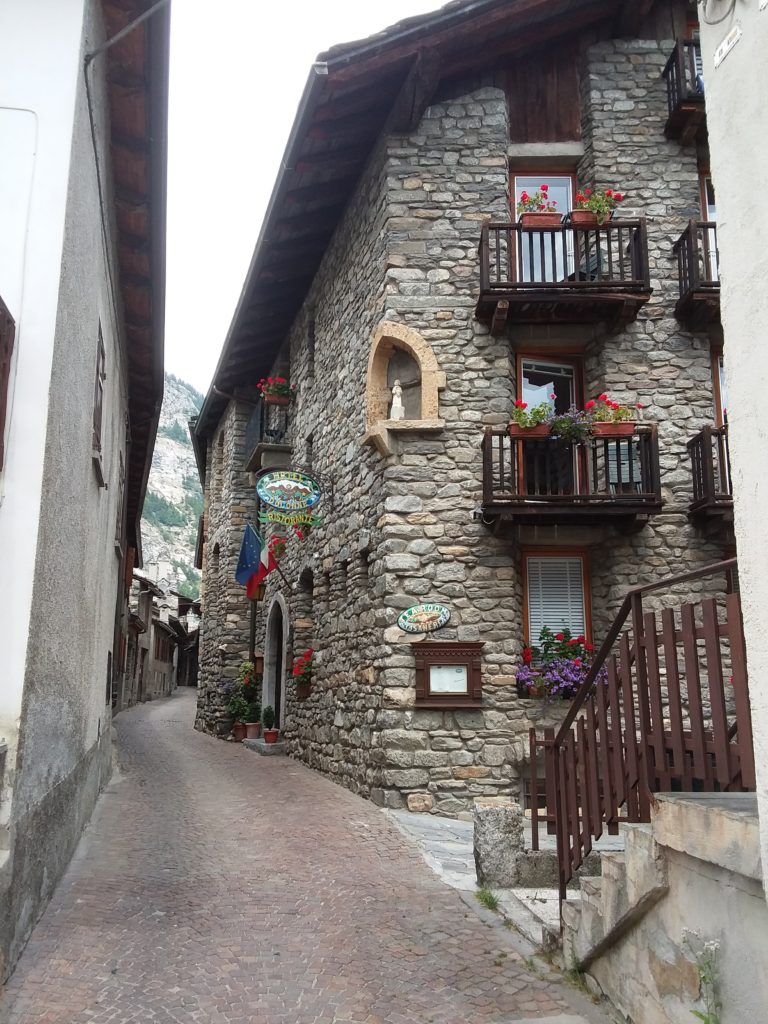 And it was pretty memorable to be here in France for their World Cup 2018 win over Croatia.  The celebrations in the street were enthusiastic. It struck me how rarely we Americans pack into our cars and drive up and down the streets honking our horns, with Old Glory flying proudly out the window, throwing fire crackers into the street.
You could tell the pubs along our bus route back to Argentiere, because apparently it's perfectly acceptable to make a road block in the street in celebration.  But our bus driver seemed into it, so it worked.
Today after we all slept really well and ate croissants and eclairs for breakfast (yeah, I can do this French thing…) we decided to be tourists for a day and take Mom up the gondola to Aguille du Midi.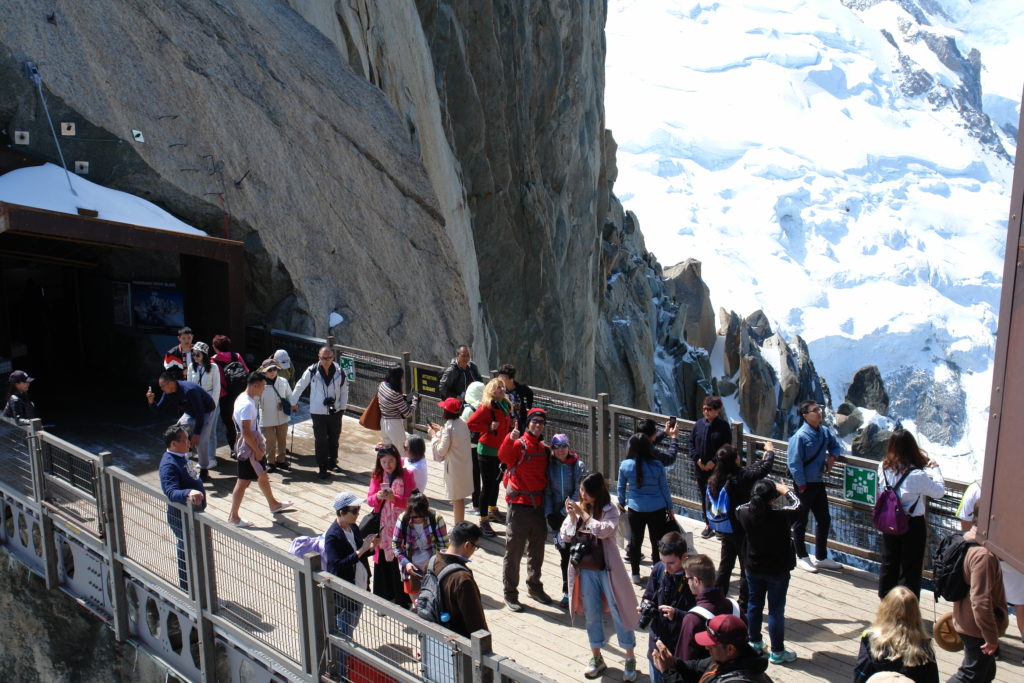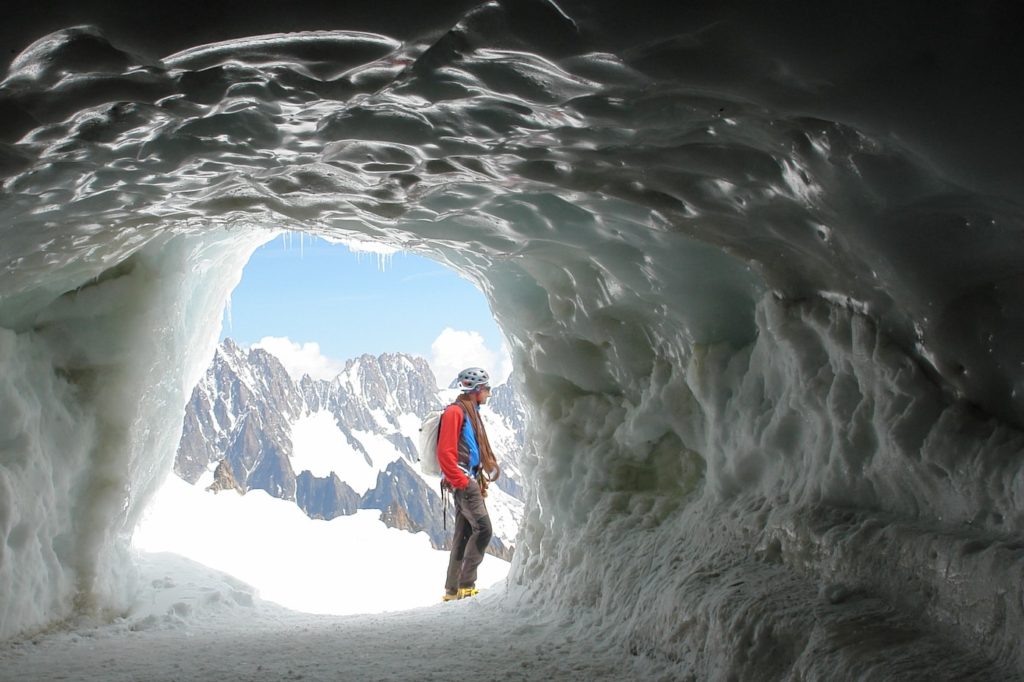 Which I found just as breathtaking as I did when I was first there 22 years ago.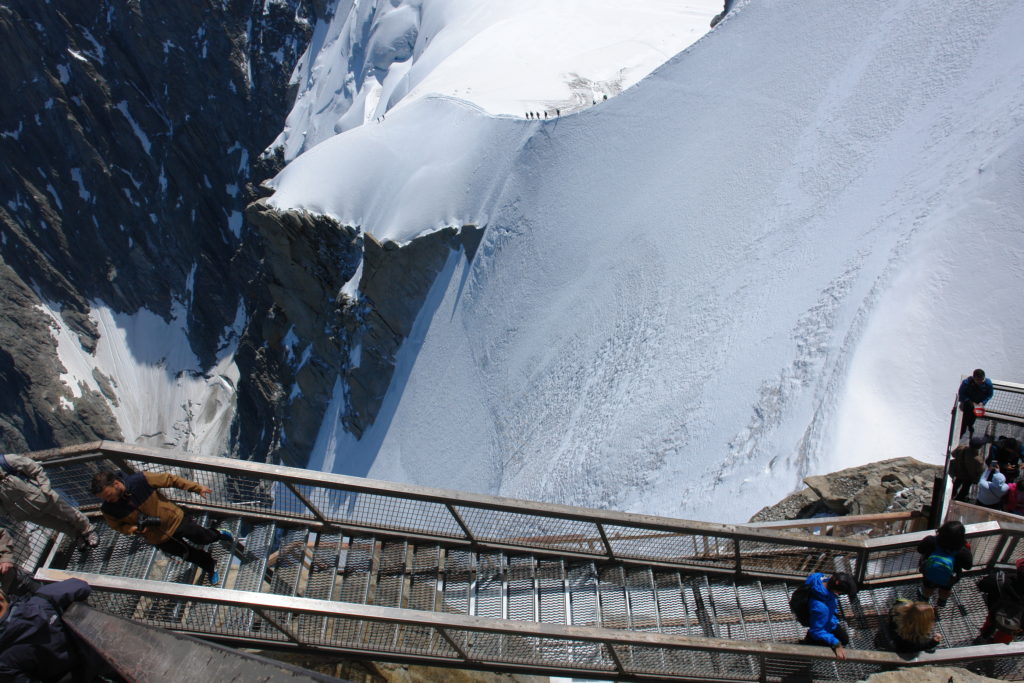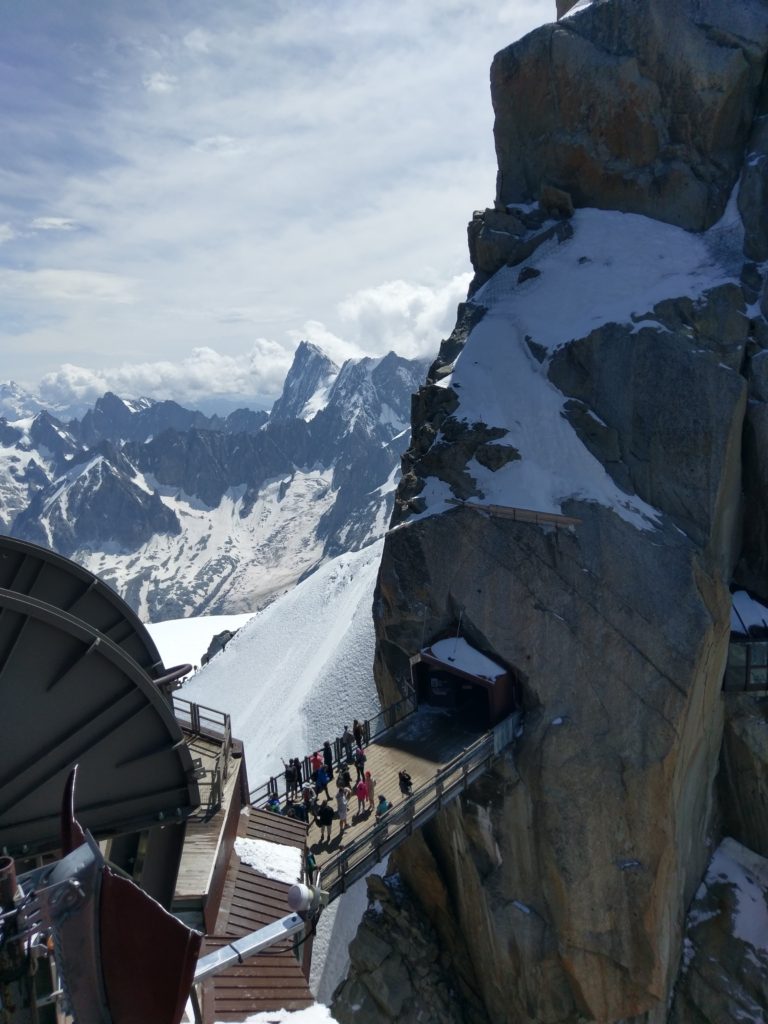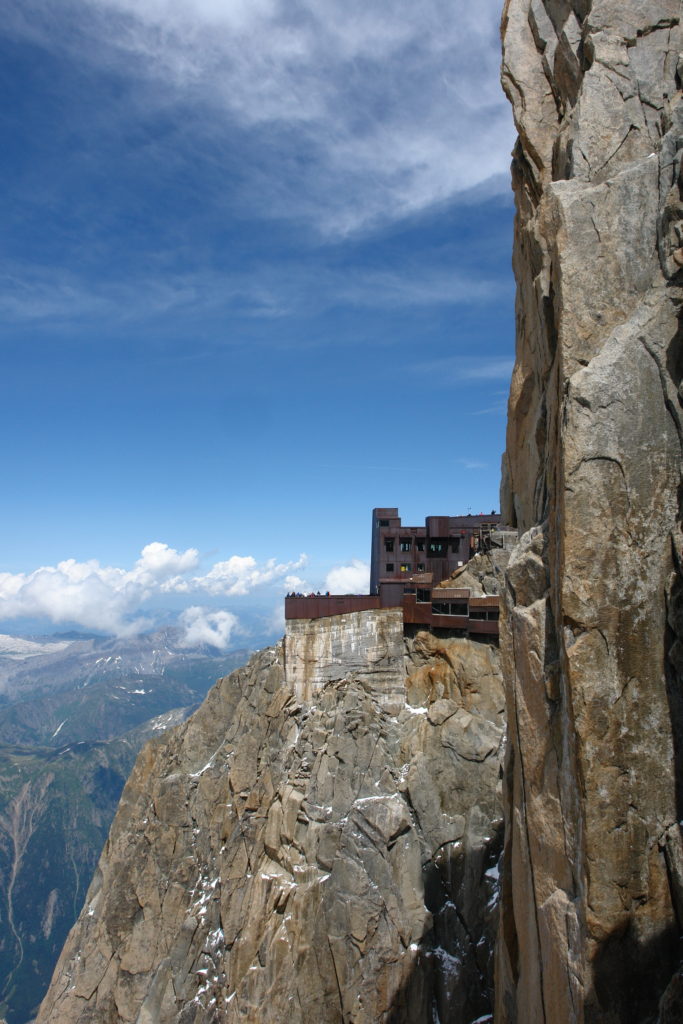 Except this time, there were a whole lot more selfies and we didn't have to wait until we got home and developed our film to see what pictures we got.  So we practiced our selfies.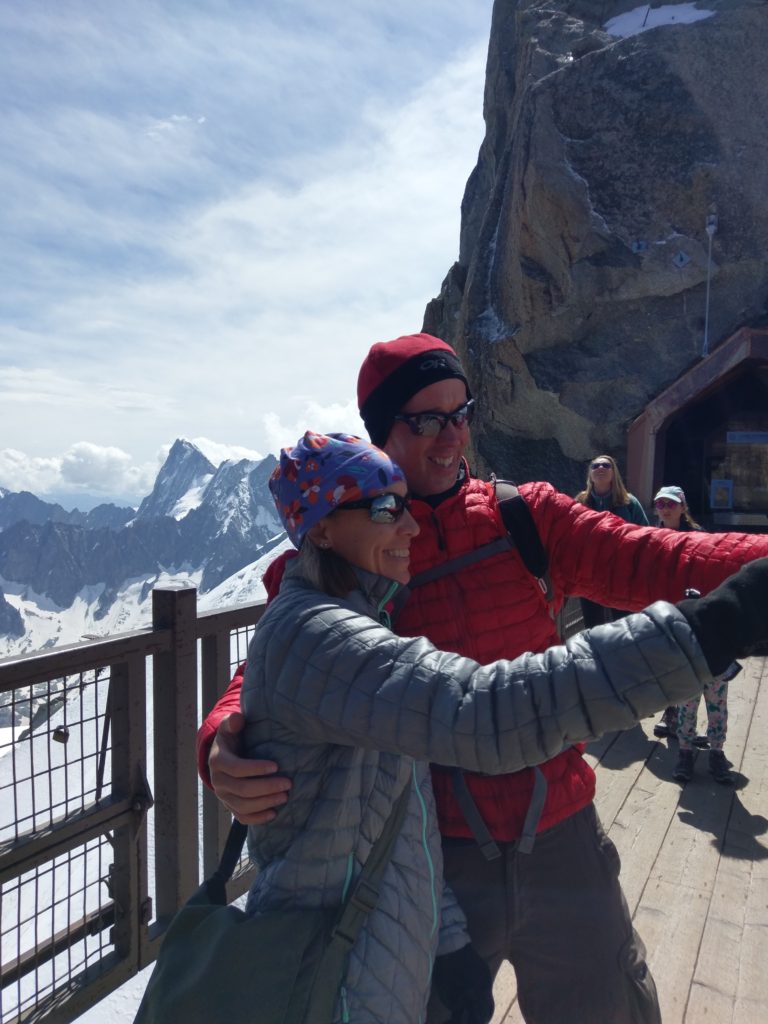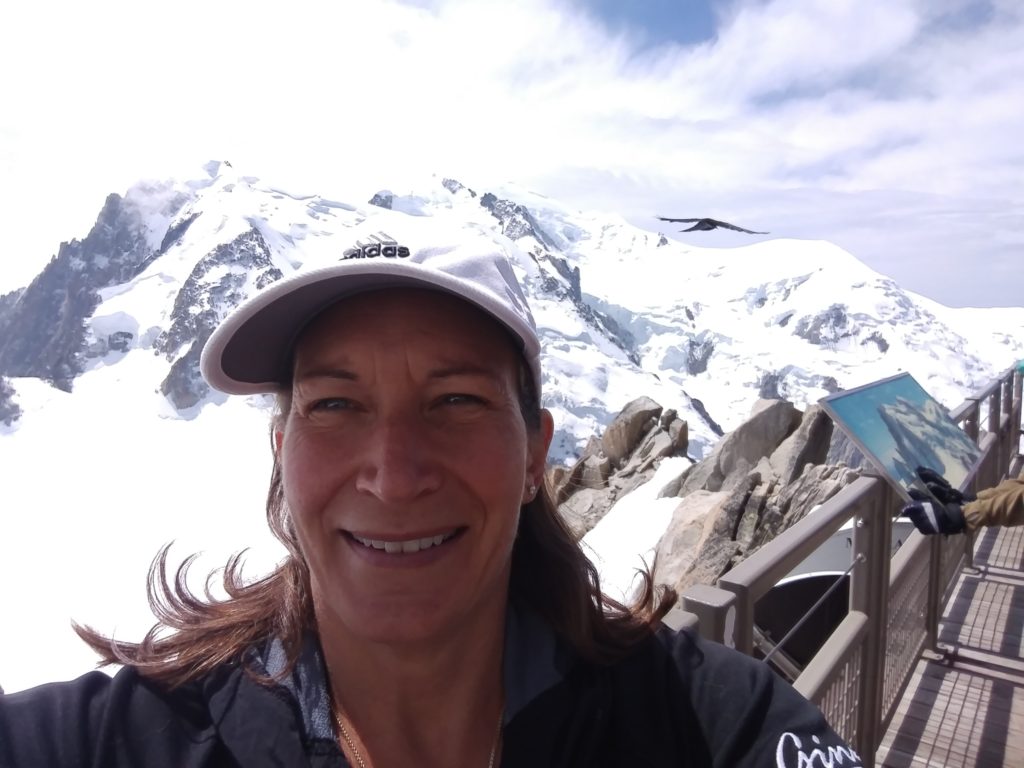 And I took a ton of pictures.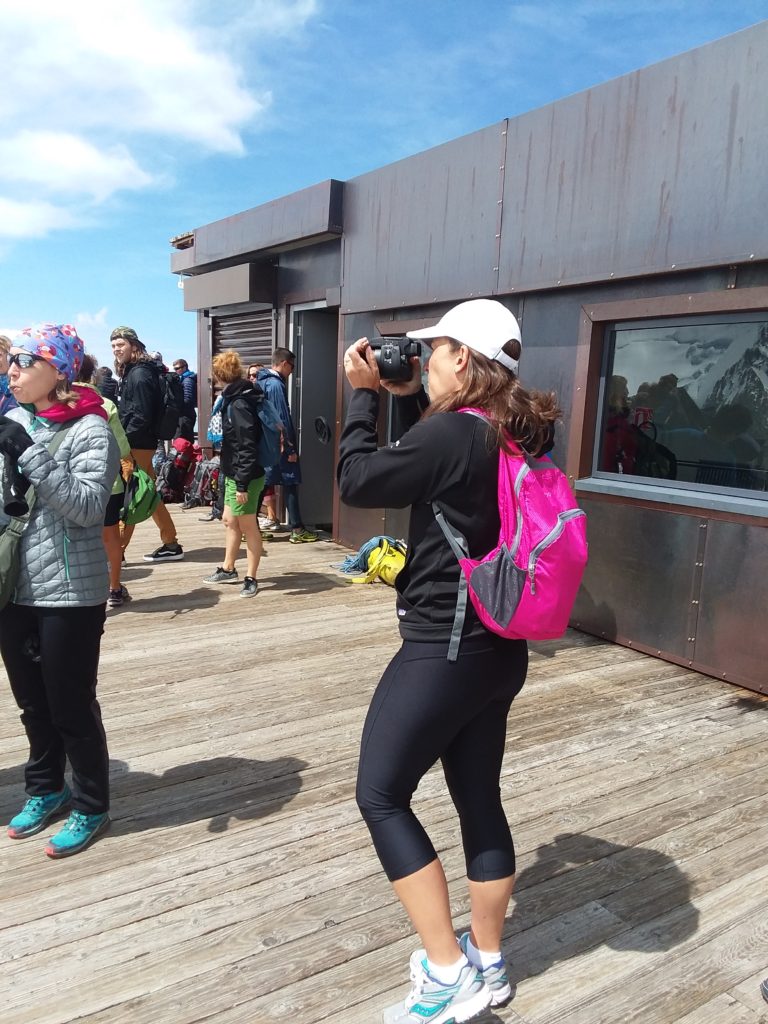 Up tomorrow, we're taking Mom on her first European train trip as we head to Zermatt and explore there for a few days.